Elementary Music Program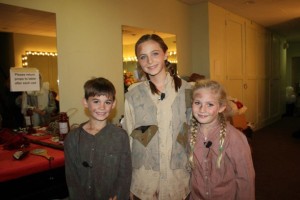 We have a comprehensive K-5th grade music program which includes vocal and performance technique, music theory, instrumentation, listening and appreciation, as well as a whole lot of fun! Elementary students from Kindergarten through 4th grade receive music instruction weekly. With a focus on music appreciation. Students learn music and singing games from different cultures and American Folk songs. Basic note reading and rhythm skills are learned as well as rhythm instruments. Fourth grade students learn the recorder and students in 5th grade can participate in beginning band. All students participate in class chapels and the Christmas Program each year.
We are the only school in Shasta County offering the opportunity for students aged 9 through 18 to be in the same full-scale, Broadway style production! Every fall, since 2005, we have produced these fall musicals for the Cascade Theatre stage. These shows are performed for the public and have drawn a following from not only our school and parents, but community members as well.
Elementary Art
Taught by a professional artist,, Elementary Art is a journey through the basic elements of art. Beginning with 45 minutes each week in Kindergarten and one hour each week for 1st through 5th grades, a foundation is created that progresses as students move through the grades. The concentration is on art, not crafts, though teachers and parent volunteers often will do craft type projects at other times. Fun projects are chosen but basic fundamentals of art are being learned, such as, shape, color, designing and balance in a drawing. A variety of media are used, from crayons to paint, to give students a rich experience with art.